These Grilled Chicken Broccoli Wraps are made with only a few ingredients and wrapped in whole wheat tortillas. They're cheesy, easy-to-make & so flavorful!Prep Time: 15 minutesCook Time: 15 minutes6 servings
These Grilled Chicken Broccoli Wraps are so easy to make. All you need are your favorite tortilla wraps, chicken (if you've got some leftover, it's makes it even faster!), broccoli and cheese essentially. Cook the chicken on a skillet, steam the broccoli, then assemble everything together and finish off in a panini press – best wrap ever!
I love putting these in the panini so I can get those beautiful grill marks. But you can also use a grill pan or even just a toaster oven or the skillet used to grill the chicken. You're just looking for a nice crispy wrap on the outside. So cheesy, so easy, so yummy!Grilled Chicken Broccoli Wraps
How to make chicken and broccoli wraps
Prepare the chicken
Mix together the seasonings in a bowl and coat the chicken in the mixture. It helps to use your hands to ensure it's well coated with the marinade.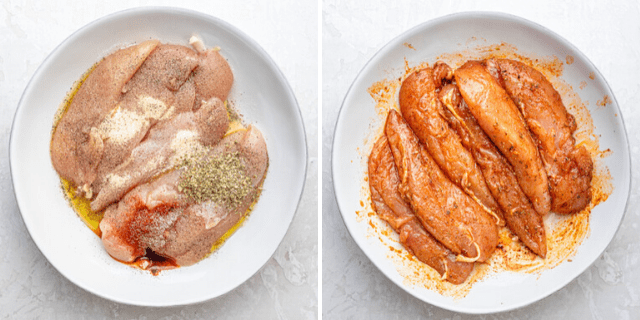 Grill the chicken on a grill, grill pan or on a skillet on the stovetop until it is cooked through. Let the chicken cool and then slice it into strips to use in the wraps with the broccoli.
Steam the broccoli
Steam the broccoli until tender. I like to blanch it so I throw it in a bowl of ice water as soon as it's done steaming, which gives it a bright green color. But this is optional.
Assemble
Spread the sour cream all over each tortilla but keeping the sides bare. Add the grilled chicken, then the broccoli, followed by the cheese. Use your hands to tuck and roll and set the wraps aside seam side down. You can easily make 6 wraps.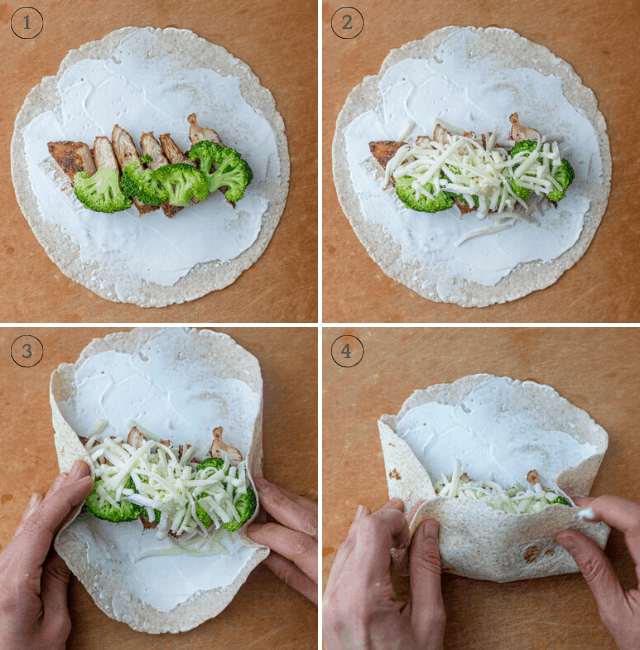 Cook on panini
Place the wraps into a panini press or cook on the grill until golden brown. It helps to place them seam side down first so they don't unravel while cooking. You can also use a toaster oven if you prefer, but don't skip heating them through since the cheese melts and really binds everything well together.
Tips for making chicken and broccoli wraps
Make sure that the seasoned chicken breast are cooked through. The juices should run clear and if you have a meat thermometer, it should register at 165F.
Steam the broccoli until just tender, it shouldn't be falling apart. If you don't have a steamer, just add a little water to a pan and bring it to a boil for a couple minutes. It shouldn't cover all of the broccoli as if you're were boiling it though.
Use soft and pliable tortilla wraps. I like to use flour tortillas as they are easier to wrap. You can also use low carb or gluten-free wraps but you may need to be careful over-stuffing them.
Shred your own cheese if you have time. Packaged shredded cheese has some anti-caking agents which can affect their melty factor. Shredding cheese from a block can really make a difference.
I like to use boneless chicken breast or chicken tenders; and if you can use organic. You can also use boneless chicken thighs if that's what you have.Can you use frozen broccoli?
I like to use fresh broccoli, but you can use frozen if you prefer. You can steam it right from frozen, it just may take a couple of minutes longer.Can you make these wraps ahead of time?
These wraps are like healthy version of chicken ranch wraps – a great way to mix up your usual lunch meal, and they come together so quickly. They are just as good as my local sandwich shop wraps but a lot cheaper!
If you've tried this healthy-ish feel good Grilled Chicken Broccoli Wraps recipe or any other recipe on FeelGoodFoodie, then don't forget to rate the recipe and leave me a comment below! I would love to hear about your experience making it. And if you snapped some shots of it, share it with me on Instagram so I can repost on my stories!
This Grilled Chicken Broccoli Wraps recipe was originally published on March 26, 2017. I'm updating the recipe today slightly and re-sharing it today with more step-by-step photos. Here's the original photo!
Grilled Chicken Broccoli Wraps
These Grilled Chicken Broccoli Wraps are made with only a few ingredients and wrapped in whole wheat tortillas. They're cheesy, easy-to-make & so flavorful!4.84 from 6 votes Print Pin RateCourse: SandwichCuisine: American Prep Time: 15 minsCook Time: 15 minsTotal Time: 30 mins Servings: 6 servings Calories: 315kcal
Ingredients
1 pound boneless chicken breast
2 tablespoons olive oil divided
½ teaspoon oregano
½ teaspoon paprika
¼ teaspoon onion powder
¼ teaspoon garlic powder
½ teaspoon Salt
¼ teaspoon black pepper
2 cups fresh broccoli florets
6 flour tortilla wraps 8-10 inches wide
1/2 cup sour cream
1 cup shredded mozzarella cheese
Instructions
In a shallow bowl, stir together 1 tablespoon olive oil along with the oregano, paprika, onion powder, garlic powder, salt and pepper. Add chicken to the bowl and coat in the seasoning mixture.
In a medium skillet over medium heat, heat the remaining tablespoon olive oil. Transfer the chicken to the skillet and cook until the juices run clear, about 3-4 minutes per side. Remove from heat and allow it to cool, then slice each breast into strips.
In a steamer set over boiling water, steam broccoli, covered, until crisp-tender, 2-3 minutes.
In the center of each tortilla wrap, spread the sour cream evenly, then add the chicken, broccoli and cheese. Bring the bottom edge of the wrap tightly over the filling, folding in the sides, then roll until you reach the top of the wrap.
Add the wraps to a panini or the skillet used to cook the chicken with the seam side down, and press gently for about 3-4 minutes total, until golden brown and the cheese has melted. Serve immediately.
Video
Notes
Storage: Leftover chicken and broccoli can be stored separately in the fridge for up to 4 days. If you have sandwich leftovers, wrap them tightly in aluminum foil and store in the fridge. It's best to reheat using a toaster oven or panini maker.Substitutes: For best results, follow the recipe as is. However here are some common substitutes that would work well in this recipe.
Instead of broccoli, you can make these with spinach or other vegetables.
Instead of sour cream, you can use mayonnaise, greek yogurt or cream cheese.
Equipment: I like making these in my panini maker. I have the Cuisinart 5-in-1 Griddler (affiliate link) – pretty much a magic appliance in my kitchen that does so much! If you don't have a panini grill, you can use a skillet and cook the sandwich for 2 minutes per side, pressing down with a spatula as you cook.Nutritional Data: Please note that the nutrition label provided is an estimate based on an online nutrition calculator. It will vary based on the specific ingredients you use.
Nutrition
Calories: 315kcal | Carbohydrates: 19g | Protein: 24g | Fat: 16g | Saturated Fat: 6g | Cholesterol: 70mg | Sodium: 630mg | Potassium: 464mg | Fiber: 2g | Sugar: 3g | Vitamin A: 504IU | Vitamin C: 28mg | Calcium: 221mg | Iron: 2mg