We are a participant in the Amazon Services LLC Associates Program, an affiliate advertising program designed to provide a means for sites to earn advertising fees through links to Amazon.com. As an Amazon Associate I earn from qualifying purchases.
Growing avocado from seed is fun and easy! In this post, I will give you step-by-step instructions for how to grow an avocado tree from a pit, show you what to do with the seedling, and also give you tons of avocado growing tips.

Did you know that you can grow an avocado tree from the pit of an avocado that you buy at any grocery store? Yes, it's true. How To Grow Avocado SeedsVideo Player is loading.PlayMuteLoaded: 70.08%Remaining Time -0:18Fullscreen
The avocado pit is the seed. We go through avocados pretty quickly at our house, which means I have an abundant supply of avocado pits to experiment with!
Growing an avocado plant from the pit is fun, and it's a great way to grow yourself a new houseplant.
To grow avocado from seed, all you need is the pit from a ripe avocado, and a handful of around-the-house items to make it grow. How cool is that?
Table of Contents
GROWING AVOCADO FROM SEED
Below you'll find exactly what I did to grow an avocado tree from a pit using a regular grocery store avocado! This method works in any growing zone, since you'll be starting the tree indoors.

You can keep the avocado tree as a houseplant, or plant it outside if you live in a warmer climate.
WHEN SHOULD I PLANT MY AVOCADO SEED?
You can grow avocado from seed any time of the year. Just keep in mind that avocado germination time may be longer during the cold winter months.
So, if you live in a cold climate like I do, you may find it easier to try planting avocado seeds in late winter or early spring.
PREPARING AN AVOCADO PIT FOR PLANTING
Be sure that you take the seed from a ripe avocado. The riper the fruit, the more mature the seed will be. An immature seed will probably not grow.
Gently remove the seed from the avocado, trying not to damage or cut it in the process. Once you remove it from the fruit, wash the pit in warm water.
You'll probably have to gently use your fingers to completely clean the bits of fruit off of the pit.
Before planting it, make sure you know which side of the avocado pit goes in the water. Some avocado seeds have a distinct point on top.
But others are more rounded, so it can be tricky to figure out. The bottom of the seed will be a bit flatter, and have a rounded spot where the roots will come out. That's the end that goes into the water.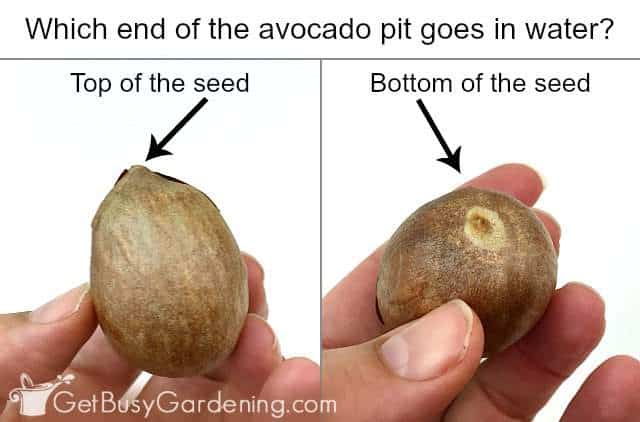 HOW TO GROW AVOCADO FROM SEED
There are two methods you could try for growing avocado from seed – planting an avocado seed in soil, or growing the pit in water.

The pits can be planted in soil just like any other type of seed. However, growing an avocado pit in soil is a bit more difficult than starting an avocado pit in water.
Avocado seeds are fussy about the soil moisture level, and you'll need to check on it daily to get it just right.
Plus, when you start them in water you can watch the roots as they grow, which is really cool.
That's why most people find it easier (and more fun) to grow them in water instead of soil. So I'm going to show you the steps for growing an avocado pit in water…
HOW TO GROW AVOCADO PIT IN WATER STEP-BY-STEP
You only need a few things to get started, and growing avocado from seed in water is pretty easy.
The biggest thing to remember is that it can take as long as 6-8 weeks for the roots or stem to break through the pit, so you have to be patient.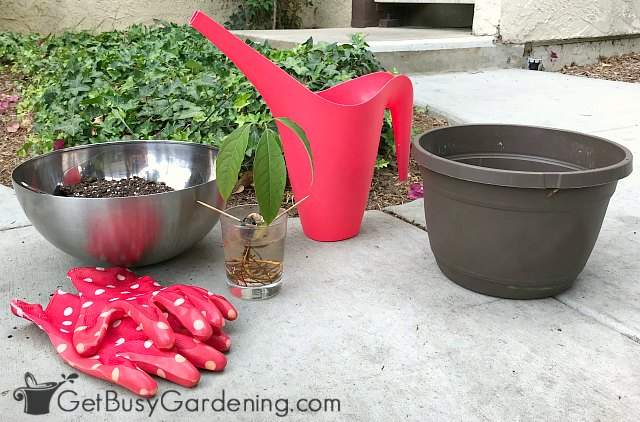 Supplies Needed:
* Your glass does not have to be clear – but it's way more fun if it is! You can see the roots growing in the water when it's clear!
Step 1: Stick toothpicks into the pit – Take three toothpicks and stick them into the pit, equidistant from one another. You'll need to push firmly, but it isn't difficult to insert them into the pit.

Step 2: Place your avocado seed into the water – Fill a glass or jar with water, then gently set the pit on top with the toothpicks resting on the rim of the glass.
The toothpicks allow you to suspend the pit in the middle of the glass so that the bottom is in the water, and the top stays dry. You'll want to make sure that about half of the avocado seed is covered with water.
Alternatively, you could use a growing kit that it specifically designed for easily growing avocado from seed. That way you can grow an avocado seed without toothpicks.
Step 3: Put the glass and pit in a bright, warm location – Place the glass in a warm location that receives indirect sunlight in your home.

It's good to have it in a bright location, but keep it out of direct sunlight at this point. Also, the warmer the location, the faster the seed will sprout, so keep that in mind too.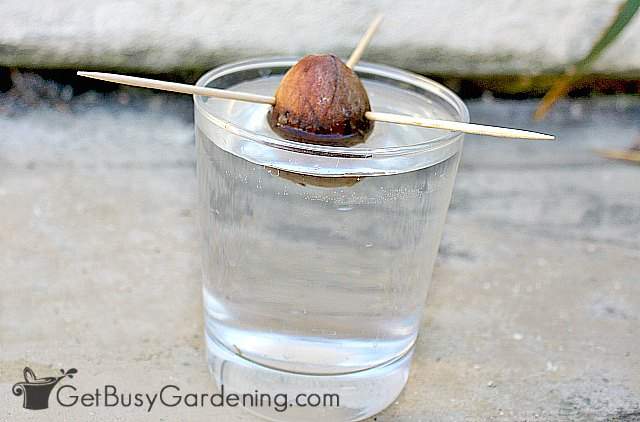 Step 4: Keep the water fresh…watch, and wait! – While you are watching and waiting to see that root pop through the bottom of the pit, the water will get foggy.
Foggy water is normal, but you do want to make sure to keep it fresh so your avocado seed won't rot or mold.

To replace the water, fill up a new glass and let it sit out at room temperature. Once the fresh water is the same temperature as the foggy water, place the pit into the new glass.
Also, try to keep the water level above the bottom of the avocado pit at all times, and never allow the roots to dry out. Simply top it off with room temperature water if the level starts to drop too low.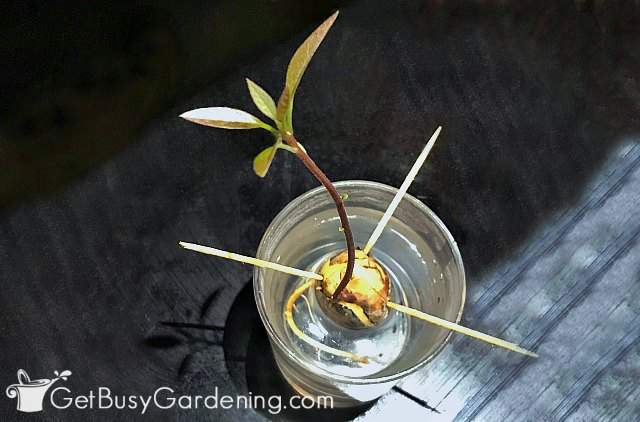 CARING FOR YOUR AVOCADO SEEDLING GROWING IN WATER
After the avocado roots (from the bottom of the pit; in the water) and stem (from the top of the pit; upwards) have sprouted, allow your avocado seedling to grow until it reaches 6-7 inches tall. Then cut it down to 3 inches.
While this is scary, and seems like you're killing the new plant, it's actually the best way to encourage a stronger, healthier stem and leaves.
When cutting back the stem, be sure to use sharp, sterile shears or pruning snip. You can kill the young seedling if you don't make a clean cut!
To clean your pruners, simple wash the blades with soap and water, or dip them into rubbing alcohol to disinfect them.
After pruning the stem, allow your avocado plant to continue growing in the water. When the roots are healthy and thick, and the stem has leaves again, it's time to plant it in soil!
HOW TO PLANT AVOCADO IN SOIL
Transplanting your avocado tree from the glass to the pot should be done with care. The seedling roots are very delicate and can break easily if mishandled.
To pot up your seedling, first remove the toothpicks from the pit and discard the water from your glass.
The best potting soil for avocado tree is one that is fast draining. They will grow just fine in a general purpose potting soil.
However, if you tend to overwater your houseplants, then I recommend adding some perlite or coarse sand into the mix to help with drainage.

Then fill your pot with soil. Be careful to leave enough space for the roots so that they aren't getting smooshed or torn.
Your avocado should be planted in soil at about the same depth as it was growing in the water, but no deeper. So, the pit should stick out of the soil at least half-way.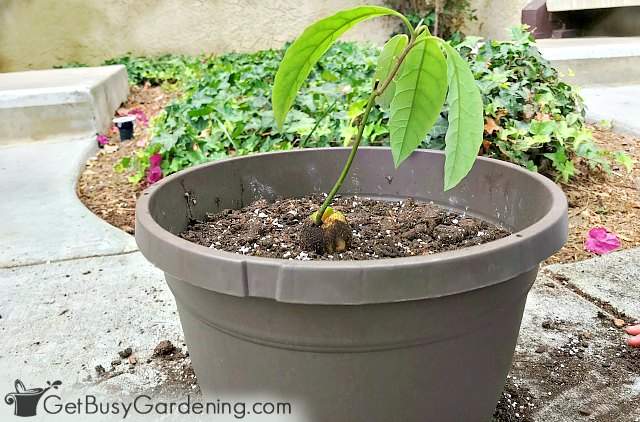 NEWLY POTTED AVOCADO TREE CARE
After potting up your avocado seedling, place it in the same area where the glass was. The temperature and amount of sunlight it receives should not change drastically, or it may send your new tree into shock.

Remember, your avocado seedling is used to getting a lot of water. So give it a good, deep soaking, and allow the excess water to drain from the pot.
You should water the seedling frequently, especially in the beginning. Keep the soil consistently moist (without saturating it) until your avocado seedling has become established in its new pot.
Your avocado tree is well on its way to being a rock star houseplant! When it reaches a foot tall, cut it back to 6 inches. It seems scary to prune it back this much, but this encourages new shoots and growth!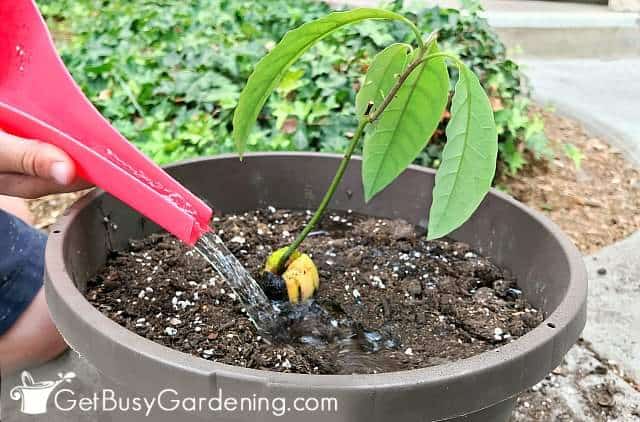 GENERAL AVOCADO TREE GROWING TIPS
Once your avocado seedling has recovered from its latest pruning, and has gotten used to growing in a pot, you can move it to its permanent location.
The plants grow best in a warm, sunny spot, and they love humidity. Here are some basic indoor avocado tree care tips…
Grow your indoor avocado tree in a sunny window, and protect it from cold drafts. If it starts reaching for the light or growing leggy, then add a grow light.
Avocado plants love humidity, so grow it in a bathroom or near the kitchen sink if you can. Otherwise you can run a humidifier near the plant if you live in a dry climate, or during the winter when the air in our homes is dry.
You can move your avocado houseplant outdoors during the summer to give it a boost. Just be sure to slowly acclimate it to a full sun location so that the leaves won't get sunburn.
Avocado trees like a lot of water, but be careful not to overwater a potted avocado plant. Allow the soil to dry out a bit between waterings.
When it's time to water, give your plant a deep drink of water, allowing the excess to drain from the pot.

If you're not sure how often to water it, then I recommend getting a soil meter gauge to help you get it right every time.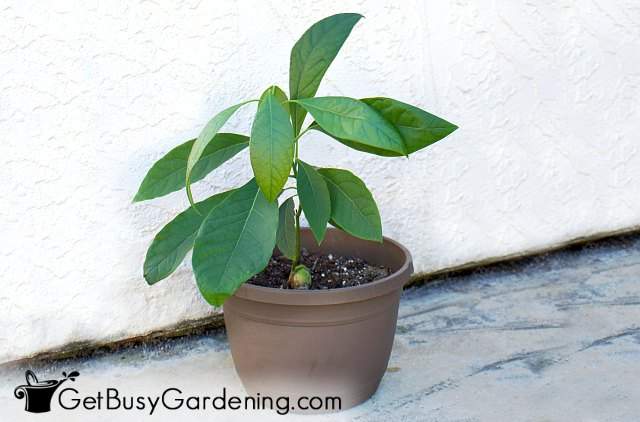 FAQS ABOUT GROWING AN AVOCADO PIT
Below are answers to frequently asked questions that I get about growing avocado from seed. If you can't find the answer to your question in this post or here in the FAQs, please ask it in the comments below and I will answer it as soon as I can.

HOW LONG DOES IT TAKE TO GROW AN AVOCADO TREE FROM SEED?
It takes about 6-8 weeks to grow an avocado from seed. Sometimes it can grow faster, depending on the environment. To try speeding up germination time, put the seed in a warm location.
DO AVOCADO TREES GROWN FROM SEED PRODUCE FRUIT?
It's very unlikely that your avocado plant grown from seed will produce fruit, but it's definitely possible. Just beware that the fruit probably won't be the same as it was on the parent plant.
HOW LONG DOES IT TAKE FOR AN AVOCADO TREE TO PRODUCE FRUIT?
It can take anywhere from 10-15 years for an avocado tree grown from seed to produce fruit.
CAN YOU PLANT A DRY AVOCADO SEED?
That depends on how dry it is. It's a good idea to plant avocado seeds as soon as you can after you remove them from the fruit. If the seed dries out too much, it may not sprout. If it's only been dry for a few days, it should be fine.
WHICH END OF THE AVOCADO SEED GOES DOWN?
The bottom of an avocado seed is flatter than the top, and has a rounded spot on it where the roots will come out. See the photo under the section "Preparing An Avocado Pit For Planting" to help you figure out the top from the bottom.
CAN YOU PLANT AN AVOCADO PIT IN SOIL?
Yes! This method can be more difficult because you need to keep the perfect balance between too wet and dry or your seed won't grow.
Plant the seed in moist soil with about 1/2 of the pit sticking out of the dirt. Keep your avocado soil moist but not soggy, and never allow it dry out.

You can cover the pot with plastic to help keep the soil from drying out too fast (don't allow the plastic to touch the seed though).
Growing avocado from seed is fun, and a great way to get a free houseplant. It may take some experimenting with the location of your glass to find the perfect temperature and amount of sunlight. (I had several failed attempts at growing an avocado tree from a pit before finding success.) But trust me, when you see your first root or stem poke through that pit – it's exciting!