This orange tofu is vegan, gluten-free, and full of flavor! It's an easy vegan dinner recipe made with crispy fried tofu and a sweet, tangy, sticky orange sauce. It's reminiscent of the delicious Chinese inspired dish we all know and love!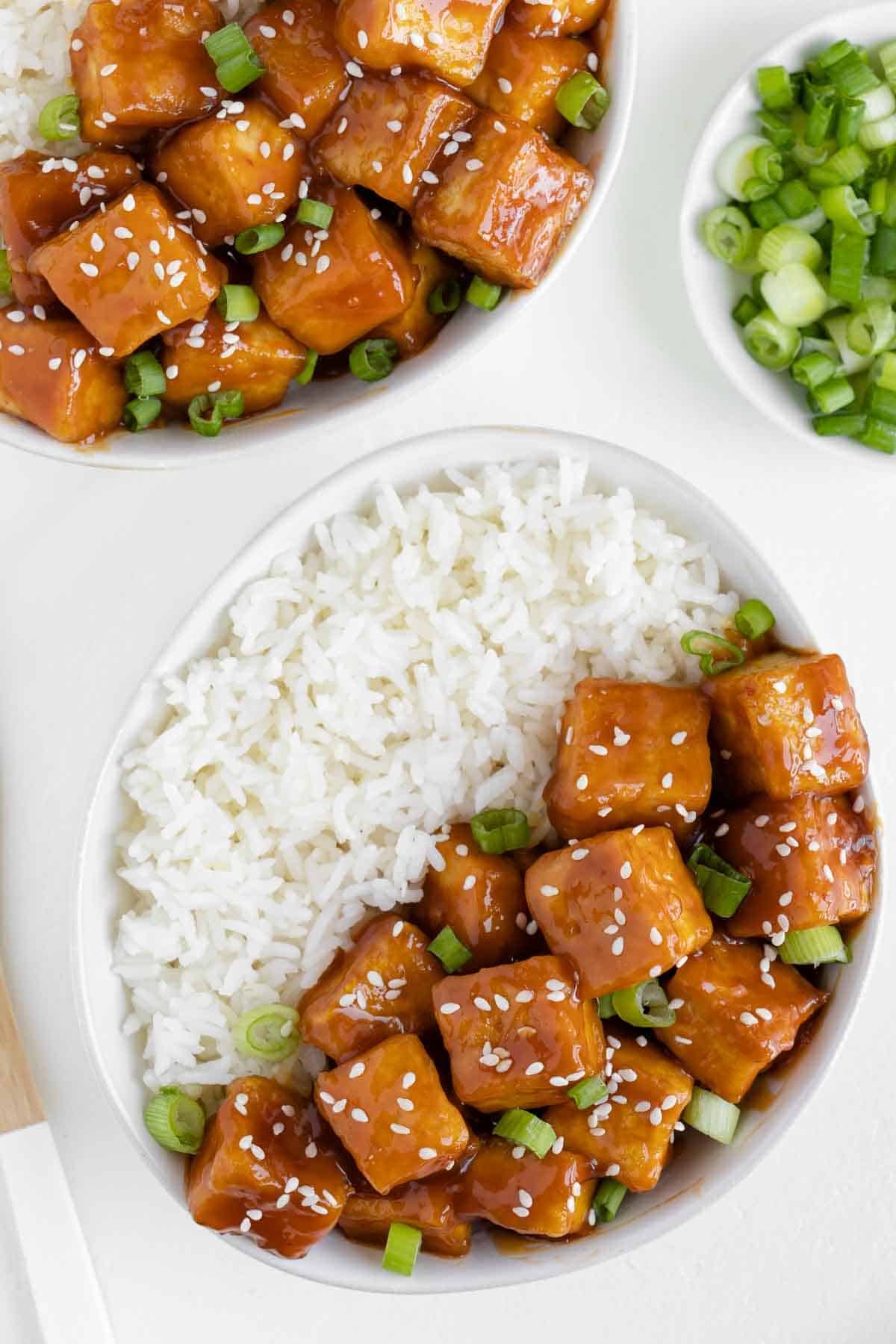 This vegan-friendly alternative to orange chicken is so delicious; it just might become your new favorite dinner! Truthfully, I'm not the world's biggest tofu fan. It's not my typical go-to ingredient when cooking. But, let me tell you… this orange tofu recipe takes things to a whole new level.
You know that bland and spongey tofu block most of us shy away from? This orange tofu is like the wild, cooler, party version of that. It's flavorful, crispy, and oh so tasty. First, we'll fry the tofu to create crispy golden cubes. Then, we'll coat the fried tofu in a sweet, sour, and tangy homemade orange sauce. I'm confident this dish can turn any tofu-hater into a tofu-lover!
This orange tofu recipe is:
Vegan, vegetarian, dairy-free, and gluten-free
Bursting with sweet and tangy flavor
Made with no refined sugar
Easy to prepare and ready in 30 minutes
WHAT IS ORANGE SAUCE MADE OF?
Orange sauce is typically made of orange juice or orange zest, vinegar, soy sauce, sugar, and oil. This particular recipe uses fresh orange juice and maple syrup.
WHAT INGREDIENTS ARE IN ORANGE TOFU?
Tofu: Tofu is packed with plant-based protein and it's a great meat-free substitution. Be sure to use extra-firm tofu for this dish.
Orange juice: This is where the tart and tangy orange flavor comes from! I recommend using pulp-free orange juice.
Soy sauce or tamari: If you're strictly gluten-free, be sure to use tamari instead of soy sauce.
Rice vinegar: Rice vinegar contributes a mild sweetness.
Maple syrup: Instead of refined sugar, maple syrup makes this orange sauce a bit healthier than alternatives.
Oil: Sesame oil is the best choice, but extra-virgin olive oil also works.
Sriracha sauce: Sriracha provides extra flavor and a subtle spice. Instead of sriracha, you can use any garlic chili sauce.
Garlic: Use fresh minced garlic or garlic powder.
Ginger: Use finely grated ginger or ground ginger.
Cornstarch: Cornstarch has two purposes in this recipe: it makes the tofu crispy and thickens the orange sauce.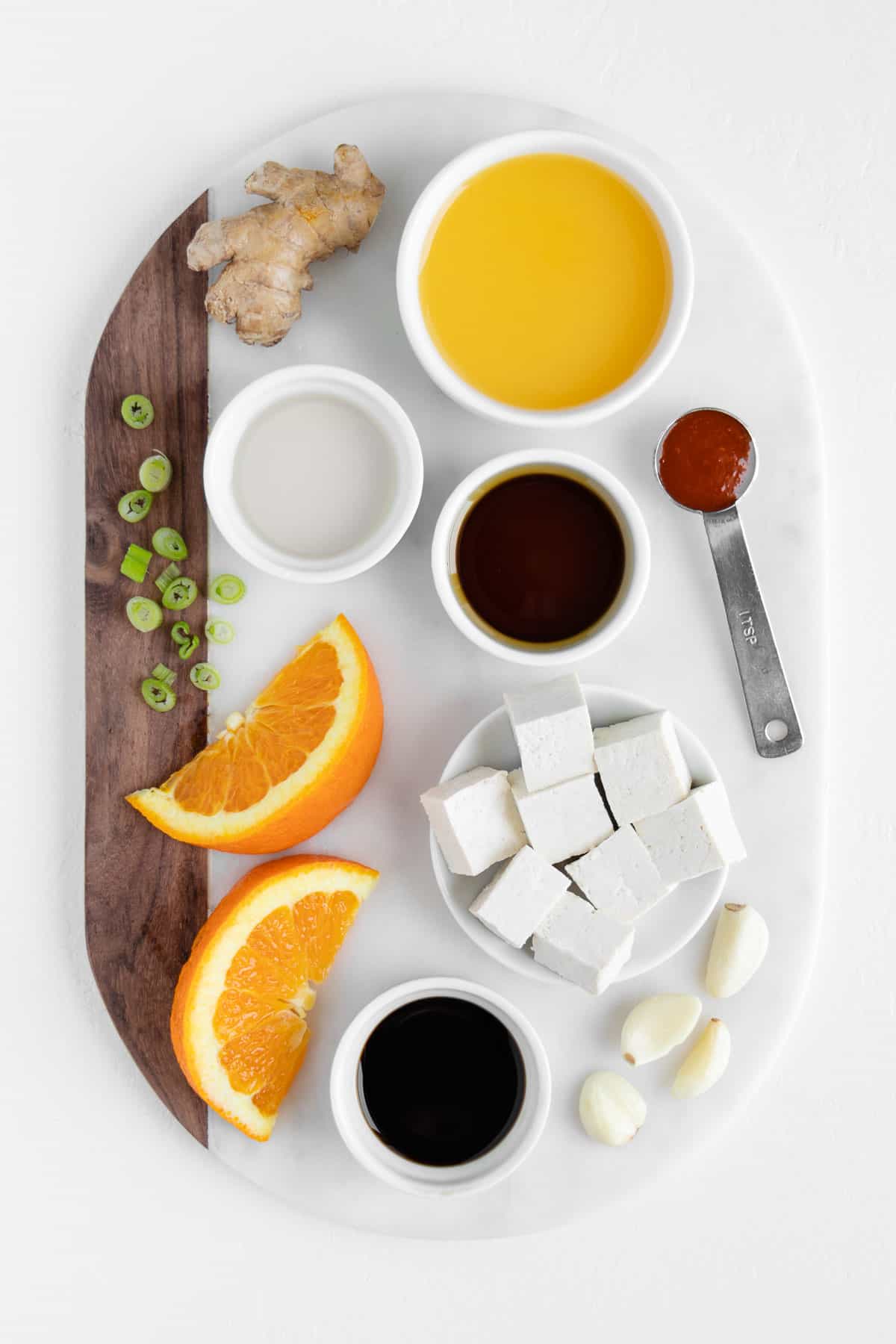 TIP'S FOR PERFECTING THIS VEGAN-FRIENDLY CHINESE DISH
Don't skip the cornstarch. Cornstarch is an essential component to the fried tofu and orange sauce. For the tofu, cornstarch is the key to its crispy exterior. For the orange sauce, cornstarch helps to thicken and reduce it into a sticky consistency. If you skip the cornstarch, your tofu won't be crispy and the sauce will be too watery.
You can bake the tofu instead of frying it. If you're not a fan of frying or you're trying to limit oil, have no fear! You can easily bake the tofu instead of pan-frying it. To bake tofu, coat the cubes in cornstarch (as written in the recipe). Then, instead of heating a pan with oil, line a baking sheet with parchment paper. Bake the tofu at 400 degrees F for 25-30 minutes, flipping halfway through, or until golden brown.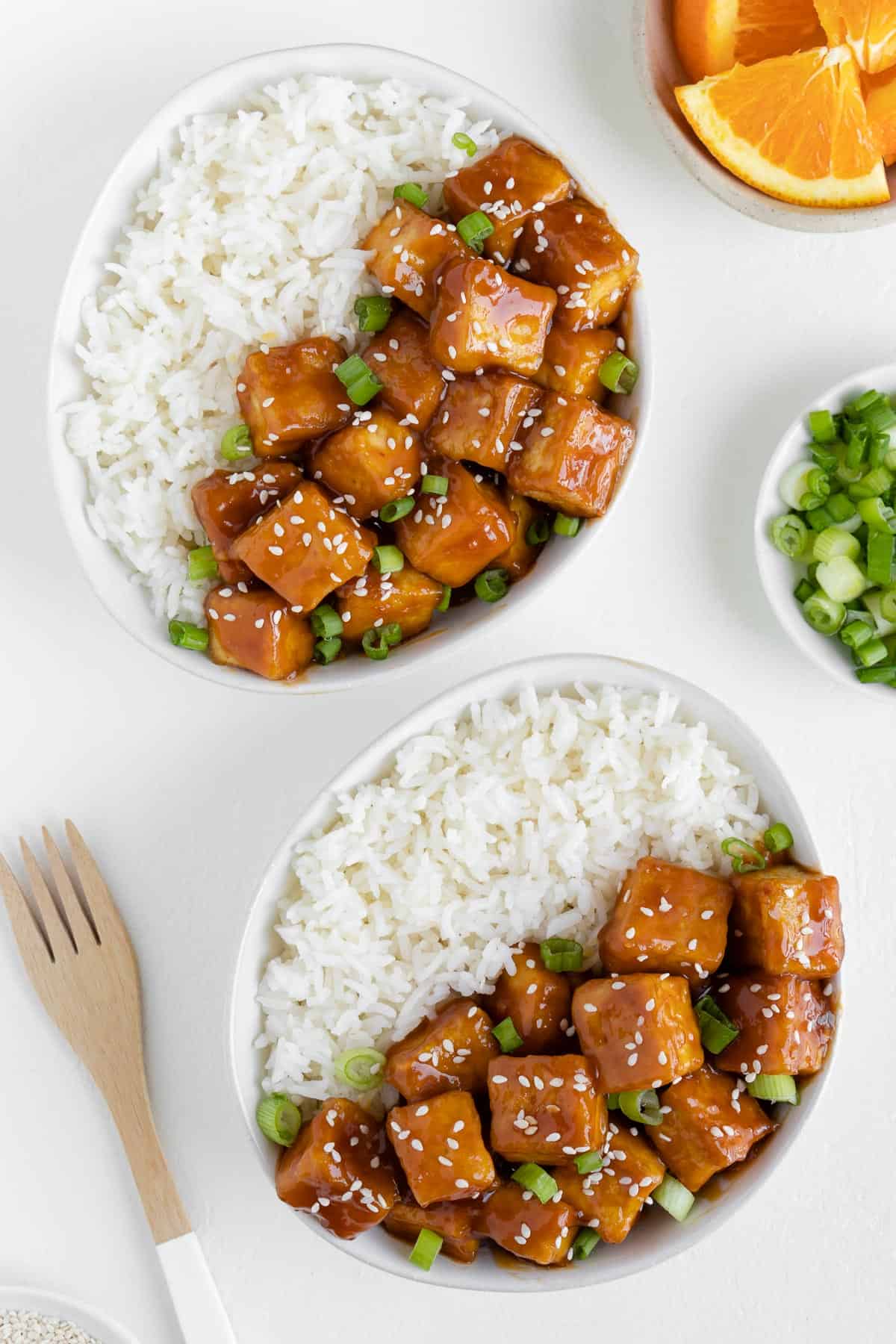 What are the best ways to serve orange tofu? I recommend serving this Chinese-inspired dish over rice with green onion and sesame seeds. Alternatively, it pairs well with vegetables, quinoa, or noodles.
Love the orange sauce but can't eat tofu? Make cauliflower wings and coat them in this yummy sauce!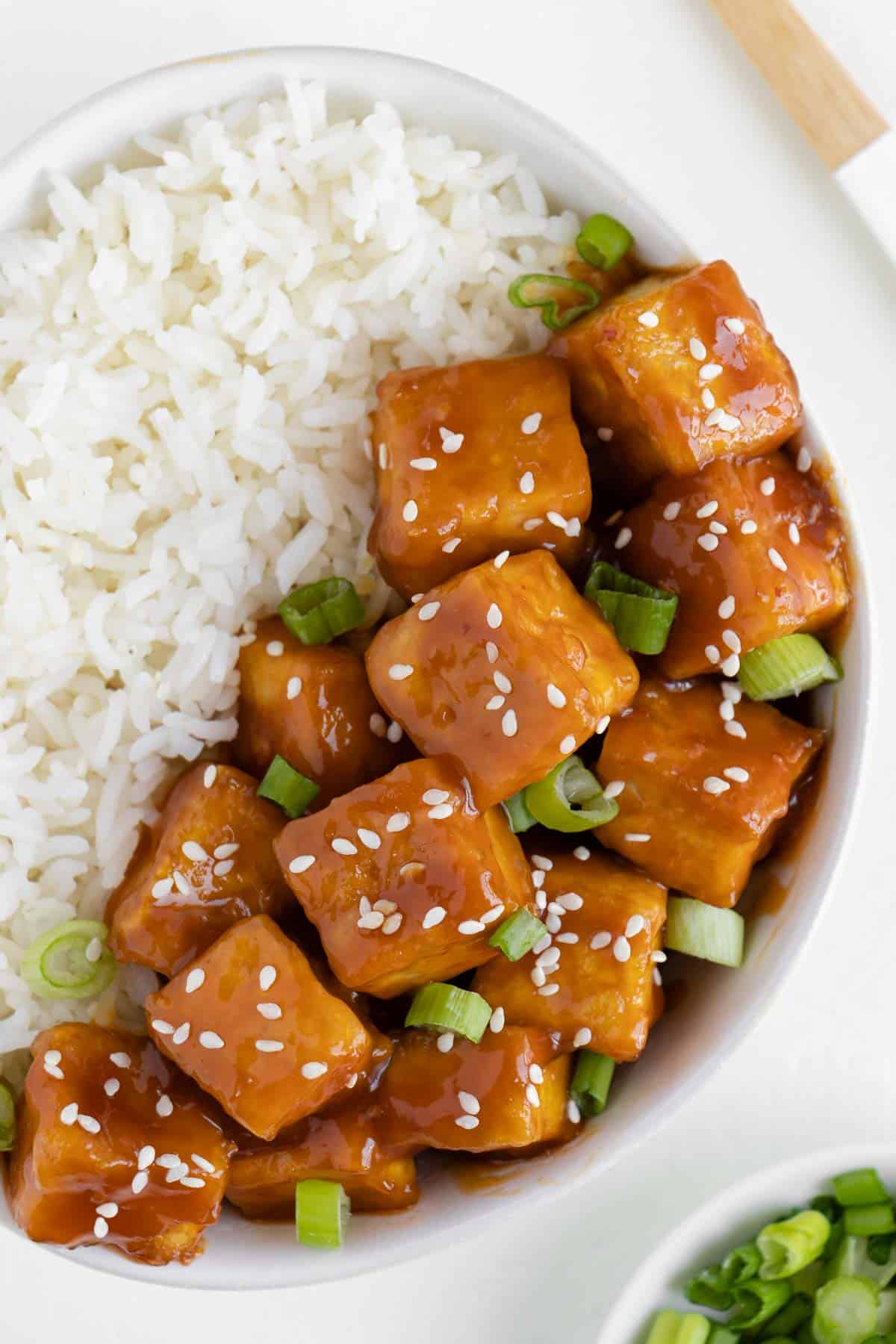 ORANGE TOFU
 Prep Time: 20 minutes
 Cook Time: 10 minutes
 Total Time: 30 minutes
 Yield: 2–3 servings 1x
 Category: Dinner
 Method: Fry
 Cuisine: Chinese
Diet: Vegan
---
DESCRIPTION
This orange tofu is crispy, sweet, tangy, and easy to make! It's a healthy vegan and gluten-free dinner recipe that pairs well with rice.
---
INGREDIENTS
Crispy Tofu
1 block extra-firm tofu
3 tbsp cornstarch
3–4 tbsp oil (sesame or olive oil)
Orange Sauce
1 cup orange juice
1/4 cup soy sauce or tamari
1/4 cup maple syrup
1/4 cup rice vinegar
1 tsp sriracha sauce
4 cloves garlic, minced (or 1/2 tsp garlic powder)
1/2-inch ginger, finely grated (or 1/4 tsp ground ginger)
2 tbsp cornstarch
2 tbsp water
For Serving
Brown or white rice
Green onion, to garnish
Sesame seeds, to garnish
---
INSTRUCTIONS
Press tofu: Remove tofu block from its packaging. Use a tofu press for 15 minutes to remove excess moisture. If you don't have a tofu press, wrap the tofu in paper towel and place a heavy object on top of it (such as a book).
Prepare rice: If serving this dish with rice, prepare it according to package instructions.
Crispy tofu: Slice the pressed tofu into 1-inch cubes. Combine the tofu and cornstarch in a bowl. Gently toss the tofu to evenly coat all sides. Warm the oil on medium-high heat in a pan. Fry the tofu for 2-3 minutes on each side, or until golden brown. After, transfer the tofu to a plate and pour out any leftover oil from the pan.
Orange sauce: Whisk the orange juice, soy sauce, maple syrup, rice vinegar, sriracha sauce, garlic, and ginger together. In a separate bowl, whisk the cornstarch and water together. Reheat the pan on medium temperature. Pour the orange sauce into the pan and bring it to a boil. Add the cornstarch/water mixture and stir to combine. Once the sauce thickens, add the fried tofu. Toss to evenly coat all of the tofu.
Serve: Divide the orange tofu amongst serving bowls with brown or white rice. Garnish with green onion and sesame seeds.
---
NOTES
Be sure to use rice vinegar. Do not try to substitute it with apple cider vinegar or white vinegar.
To bake the tofu: Toss the tofu cubes in cornstarch. Line a baking sheet with parchment paper. Bake tofu at 400 degrees F for 25-30 minutes, flipping halfway through, or until golden brown.
Nutrition information reflects the orange tofu recipe without any rice.
---
NUTRITION
Serving Size: 1/3 recipe
Calories: 372
Sugar: 26g
Fat: 15.5g
Saturated Fat: 2.5g
Carbohydrates: 42g
Fiber: 2g
Protein: 16g